Luxury Holiday Apartment
Village Naturiste
Cap d'Agde
SilverLine Venus
Apartment Silver Line Venus
This 23 m² Studio-de-Luxe is located on the 3rd floor (with lift) and offers a panoramic view of the marina and the sea in the back. Nearby there are terraces, clubs, restaurants and many shops. The beach with its clubs and sunbeds is less than a 10-minute walk away.

This (non-smoking) apartment for 2 persons has been carefully furnished and equipped with all the comfort you need to spend relaxing holidays: air conditioning, a luxurious bed/boxspring, a fully equipped kitchenette, a bathroom with rain shower and an inner terrace with 4 luxurious bar stools. The colorful LED lighting creates an attractive and amiable ambiance.

You have access to the large swimming pool of the Port Venus Residence and a private parking lot. Your host speaks English and French and is approachable 24/7 if needed.

Studio-de-Luxe:
Air conditioning and heating, a TV set, free WIFI, a safe, an iron, a kingsize comfortable bed/boxspring with extra storage space, 2 luxury clubs, mobile bar table (also suitable as a side table over the bed) with 4 luxury bar-seats and LED atmospheric light.
The bathroom is equipped with a rain shower, a hairdryer and towels.

Free cleaning at they end of stay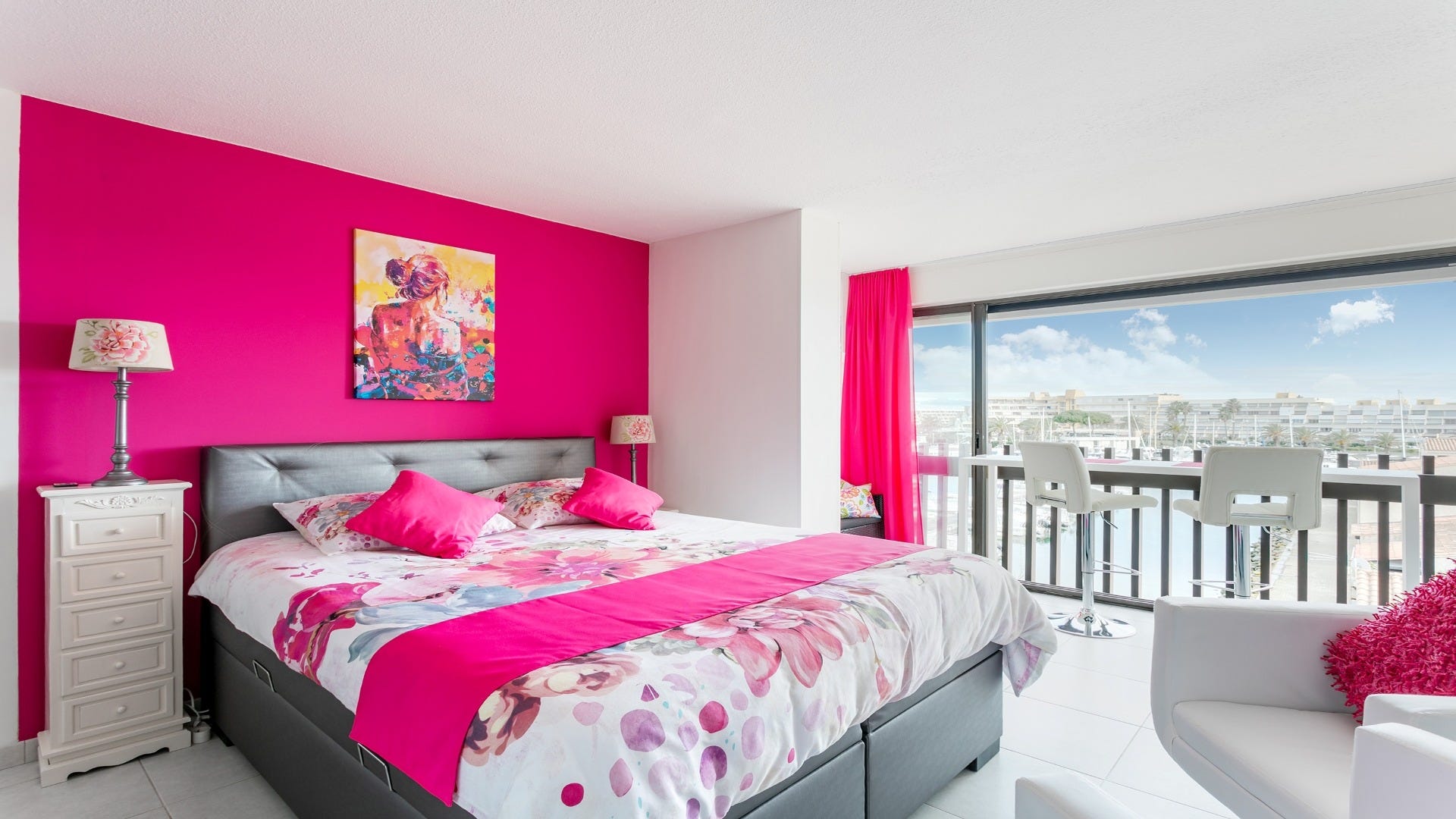 Silver Line Venus
EQUIPMENT & FURNITURE:
Elevator
Air Conditioning & Heating
Kitchen : induction, oven/microwave, refrigerator/freezer, Nespresso-coffeemachine, toaster, sandwichmaker, waterboiler
De Luxe Kingsize Boxspring (160x200), duvets, pillows, complete set of bedlinnen
Bathroom: rainshower, WC, hairdryer, (bath)towels
Mobile (bar/side)table with 4 luxury bar-seats
2 trendy club-fauteuils
LED-colorlights,
TV, Internet (free WIFI)
Safe, smoke-alarm , iron
Beachparasol and beachplaid

SERVICES:
Big Private Pool (only for guests of Port Venus Residence)
Private parking (controlled acces)
Free internet/WIFI
On arrival 2 bottles of fresh water and coffee-cups
Host 24/7 approachable (speaks: English, Dutch, French, German)
Flexible check-in/out

PRICES:
2 persons per night
All-in (bedlinnen, all towels, cleaning, tourist-taxes)
Starting at €89 to €150 per night (low/pre/late season)
Starting at €150 to €250 per night (middle- and high season)
Consult the booking site for current prices and availabilty. Just click on the button below.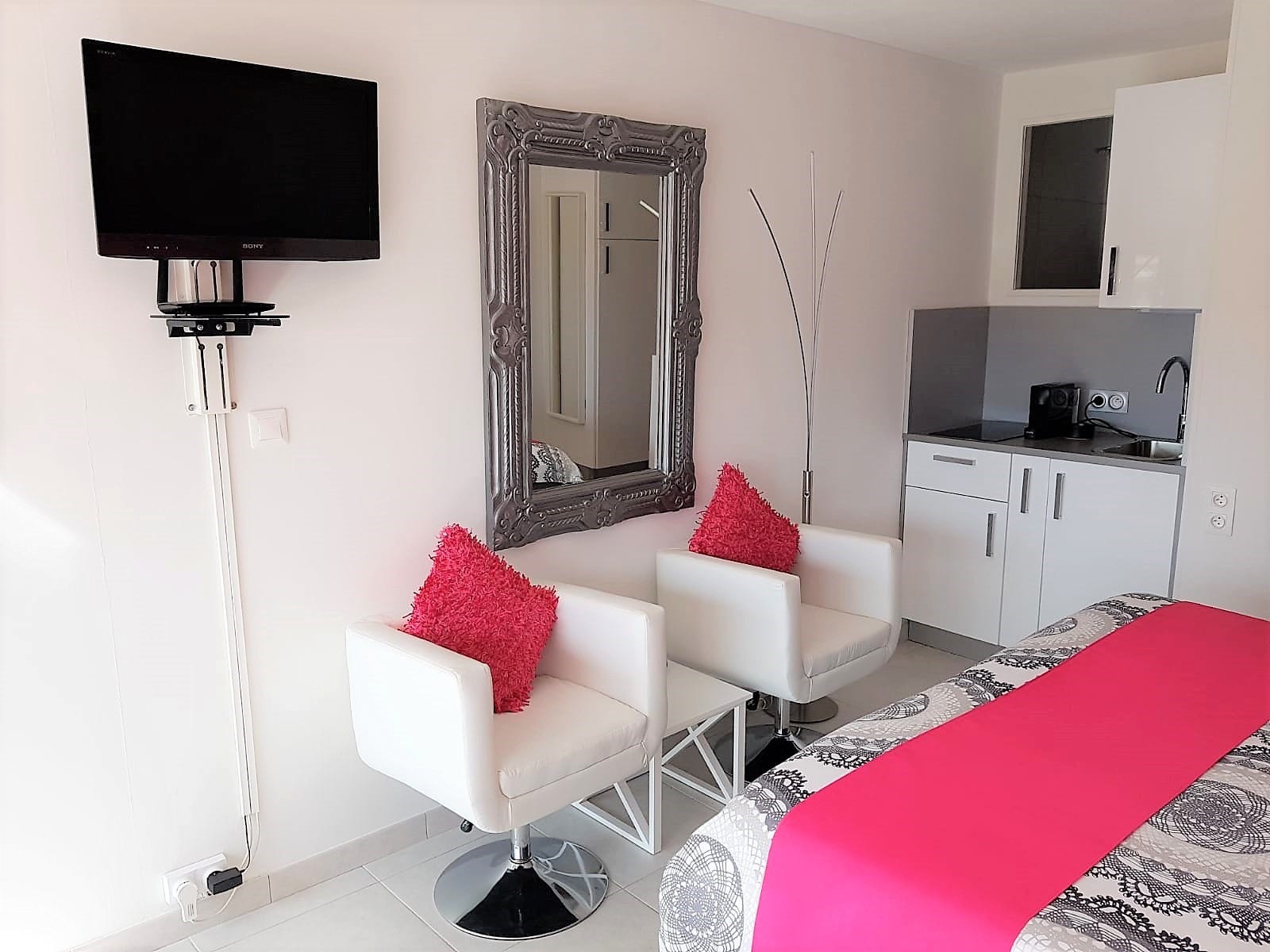 What makes the apartment special?
Unique location with panoramic views - Great enjoy!
Peace/quiet and the swinging (night)life - Best of both worlds!
New and Luxuriously Furnished - Superb clean and everything You Need
Kingsize Box-spring bed - Offers all (sleeping) comfort and more ...
Top hostess available 24/7 - For your peace of mind
Favorable cancellation conditions - Provides security in Covid-period
Guest Reviews
Booking.com : 9,2
Capdagdestudio: ⭐⭐⭐⭐⭐ (5,0/5)

Bob and Mariska (Netherlands) - Sept.2022
Fantastic Apartment
We thoroughly enjoyed our first trip to Cap in September 2022. The holiday was more than enjoyable, partly due to the fantastic apartment. Even booked extra for 2 days. The apartment is ideally located in terms of location, super view over the harbor, waking up with the sun on your face lying in bed ..... what more could you want. Definitely worth repeating, planning is again in September.
Special thanks also to Anouk the hostess who explained everything to us and even when we had questions, helped us extremely nice and friendly.
Rating : Naturismegids 10
Blootkompas 10

Ingrid v. (Netherlands) - July 2022
Apartment in top condition
"We're allowed to stay in this beautiful apartment from 3-7-22 to 10-7-22. The owner of this apartment also spends his holidays here and you can tell. Everything is there and it is super clean. apartment has recently been completely renovated it has a super working air conditioner and the hot water supply is brilliant the apartment is in a top location close to all activities such as the beach and restaurants you are there within a few minutes walk. -Back in the evening you will experience no hindrance from the entertainment venues.We were welcomed by a super friendly hostess, who also regularly asked during our holiday if everything was to your liking.
Where else do you experience this!?
Rating: ⭐⭐⭐⭐ ⭐capdagdestudio

Rob S. (Netherlands) - June 2022
Amazing studio in the most unique place in the world
"A really complete studio, very clean and a great view of the harbor. A quiet spot in the naturist village but still close to all the fun and cosiness. Also a big compliment to the hostess Anouk!! Her service is great!!! We are fans !! Looking forward to going back"👍🏼
Rating: ⭐⭐⭐⭐ ⭐capdagdestudio

Michael B. (Ivory Coast) - May 2022
Lovely!
"Very nice apartment in the quiet part of Agde. Well equipped and with great support from the very nice hostess Anouk and her husband. This is everything you need for a perfect stay in Agde. We will definitely return."
Rating: ⭐⭐⭐⭐ ⭐capdagdestudio

Sabine K. (Germany) - May 2022
Great apartment
"A very nice, bright apartment with a beautiful view. In addition, it has a big and comfortable bed and everything is really clean. The land-lords are very welcoming and happy to help with questions. In addition, it is not far to the clubs and bars, but you still have your peace at night."
Rating: ⭐⭐⭐⭐⭐
Teun (Netherlands) - May 2022
Total relaxation
"Booked this apartment as a surprise for my partner and me ... photos and description correspond to reality .... we were received top notch by the hostess which was followed by a top stay .... enjoyed the sea, beach, terraces, restaurants and everything the Village has to offer naturists... so we would be happy to come back and recommend this apartment to everyone."
Rating: Blootkompas.nl: 9,4

Henkjan R. (Netherlands) - September 2021
Nice apartment with a beautiful view
"Nice apartment with a beautiful view over the harbor and a good bed! We enjoyed this location. We used the lovely swimming pool. The location in relation to the nightlife is perfect, not the burdens, but the benefits."
Rating: ⭐⭐⭐⭐⭐

Rudy K. (The Netherlands) - August 2021
An absolute must!!
"After years of hearing and reading about the village naturist in Cap d'Agde, we finally went ourselves. We were taken care of by the friendly, helpful hostess Anouk, who felt very welcome. We wanted to be close to the action, but also so that we could relax quietly if we wanted to. That is exactly the place of this apartment! Just a few minutes' walk from the hot spots, you can also relax and enjoy peacefully in their apartment. From the apartment on the 3rd floor you have a beautiful view of the harbor, the boulevard and the sea. Nice with the sliding glass doors completely open so that you are actually sitting outside. Also slept well at night with the sliding doors open! The apartment itself is spotlessly clean and very stylish and freshly decorated. Everything is new and a lot of thought has gone into furnishing, interior and supplies. Super handy things such as the mobile high table and various things to make it easy for you, such as a safe, sandwich maker or the large bath towel. An absolute must!!"
Rating: ⭐⭐⭐⭐⭐

Ulrich S. (France) - August 2021
Very well
"An apartment full of charm and very pleasant. We keep the address carefully for our next stay"
Rating: ⭐⭐⭐⭐⭐

Leroy v. (Netherlands) - Juli 2021
Perfect apartement
"Are you looking for a good place to sleep in Naturist Village? Then look no further!"
Rating: ⭐⭐⭐⭐⭐
Xavier B. (Frankrijk) - Juni 2021
Appreciation
"Nice apartment very functional."
Rating: ⭐⭐⭐⭐⭐
Christian T. (France) - June 2021
". . .the design of this studio has been very well thought out to provide a pleasant stay for its tenants. It is simply magnificent, comfortable, clean, with a superb view of the port and the sea. Not far from the beach, it is ideally located close to entertainment, while being quiet. Smiling, radiant and attentive to ensuring that you spend your stay in good conditions, Anouk is truly a charming welcome hostess. Thank you again and see you soon. . . "
Rating: ⭐⭐⭐⭐⭐

Thomas S. ( ) - June 2021
Silverline Venus
"Great apartment, great welcome, everything is perfect. Thank you for everything and see you next time," Thomas
Rating: ⭐⭐⭐⭐⭐

Sophie (France/The Netherlands) - June 2021
Wonderful
Great apartment. worth more than its price!
"We enjoyed this modern and comfortably furnished apartment and super clean! The view is sublime, it was a party to have breakfast in the morning, with views of the port and the sea in the distance. The air conditioning works perfectly and is quiet, the big bed is great. The shower is not very big, but the rain shower gives a full hot jet!
Anouk is the perfect hostess: warm welcome with a big smile, very attentive, she takes time for you and can give you lots of information about the village. Always available. TOP!
The location is also excellent, the beach and entertainment area (no noise heard) are both close and you can walk there "in no time"
In short: pleasantly surprised and beyond our expectations.Staying in this apartment is well worth the price! We will definitely be back! "
Rating: Booking.com 9

Philippe (France) - May 2021
Superb apartment
"Superb !!!! really the hostess is super nice and the view from the apartment is magnificent
Excellent value for money "
Rating: Booking.com 10 and ⭐⭐⭐⭐⭐

Edwin (The Netherlands) - May 2021
A great stay
"From the very warm welcome from the employee of the rental company to the check-out from the same lady, who even spoke Dutch, we enjoyed a great apartment. The view is breathtaking over the new boulevard, the port and the sea. Even in the high season should be nice and quiet here and yet the center of the naturist village is only a few minutes walk away. It was even more beautiful than in the photos. Fully equipped, with all amenities. We will definitely be staying here again. "
Rating: Booking.com 10 and ⭐⭐⭐⭐⭐


Events
Beach
Partytime
Cap d'Agde Méditerranée
Wine - Vineyards
Casino
Golf
Aqualand


Push the button below for more information and links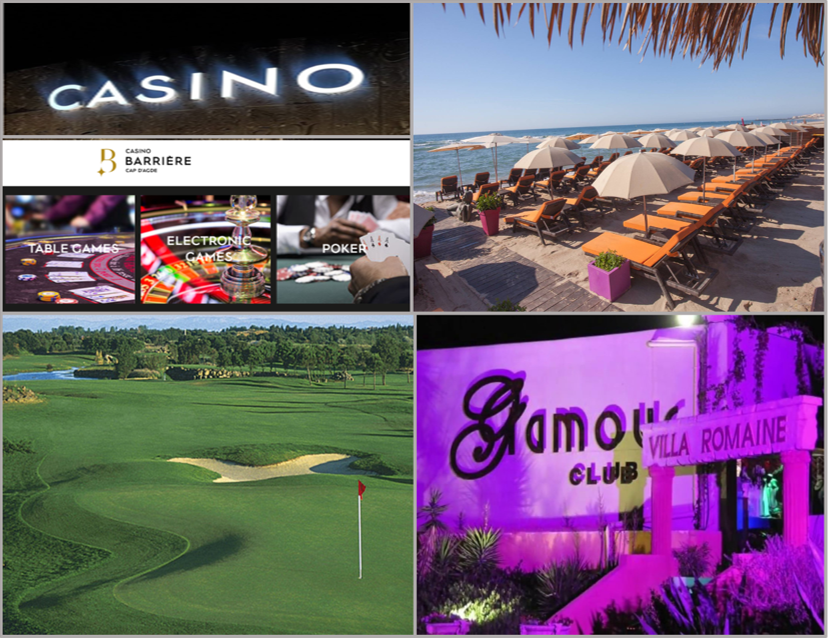 TRAVEL
By plane
RYANAIR : weekly flights to the airport of Beziers (30km near Cap d'Agde)
From Beziers airport you can travel by train/bus to the station of Agde/Cap d'Agde, or you can rent a car or take a taxi (17km) to arrive at Village Naturiste in Cap d'Agde.


AIRPORT MONTPELLIER:
EASYJET: weekly flights from London (Gatwick and Luton) to Montpellier Airport (70km from Cap d'Agde).
From Montpellier airport you can travel by train/bus to the station of Agde/Cap d'Agde, or you can rent a car for a trip of 70km to Village Naturiste in Cap d'Agde.


By car
From London it is about 763 miles to Cap d'Agde. The fastest way to Cap d'Agde is crossing the Channel by Eurotunnel and driving on the toll roads of France (Paris, Clermont-Ferrand-Montpellier-Cap d'Agde). Plan your trip with: Google Maps
CONTACT
Please contact us for further information or questions
by email : studiosilverlinevenus@ziggo.nl
telephone: 00 33 6 95 28 31 66
Photo Album Events Location Bookings